Tom Watson to Receive Winnie Palmer Award
TOM WATSON TO RECEIVE WINNIE PALMER AWARD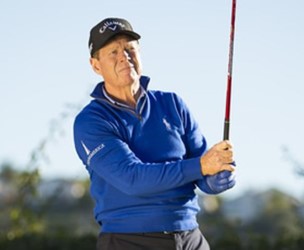 Elmsford, NY (June 6, 2017) — Tom Watson will be honored with the Winnie Palmer Award at the Metropolitan Golf Writers Association's 66th National Awards Dinner presented by Mastercard on Monday, June 26, at the Westchester Marriott in Tarrytown, N.Y.  The MGWA's Winnie Palmer Award acknowledges an individual who consistently gives their time, energy, and enthusiasm to those less fortunate.  It is named in honor of Winnie Palmer, who devoted much of her life to charity work for literacy programs and health care.
With 39 PGA TOUR victories and eight major championships to his name, Watson is one of golf's all-time greats, but this honor recognizes Watson's heart and commitment displayed off the course through his charitable endeavors. After losing his longtime friend and caddie Bruce Edwards to Amyotrophic Lateral Sclerosis (ALS) in 2004, Watson helped create The Bruce Edwards Foundation for ALS Research. Fulfilling Watson's promise to Edwards to fight toward a cure for the disease, the Foundation provides funds to medical research facilities dedicated to slowing the progression of and finding a cure for ALS.
"Tom Watson's passion for the game is only matched by his dedication to the Bruce Edwards Foundation and finding a cure for ALS," said MGWA President Bruce Beck.  "We are honored to salute Tom for his philanthropic efforts and personal commitment to this noble cause."
The Foundation and Watson himself work closely with the Robert Packard Center for ALS Research at Johns Hopkins in Baltimore, Maryland. The Bruce Edwards ALS Celebrity Golf Classic is the Foundation's major fundraising event, which has raised more than $5 million for ALS research since 2005.
In addition to his fight against ALS through the Bruce Edwards Foundation, Watson has also been a longtime supporter of Children's Mercy Hospital in his hometown of Kansas City, Mo., for which he hosted an annual golf exhibition that raised more than $12 million. He has also served as the Advisory Board Chairman at The First Tee of Greater Kansas City since 1995.
Past Winnie Palmer Award recipients include Barbara Nicklaus, Nancy Lopez, Dolores Hope, The Player Foundation, Donald "Doc" Giffin and Ernie Els.
Since 1952, the MGWA has recognized the game's greatest players, contributors, and organizations at its National Awards Dinner – the longest running and often the largest golf dinner in the U.S. each year.  This annual event is attended by nearly 600 guests, representing golf's leading organizations (PGA of America, PGA TOUR, LPGA, USGA and the Metropolitan Golf Association) and corporate supporters (Mastercard, Rolex, Callaway, Wheels Up, Stifel and MetLife), Met Area Clubs and Club leaders, as well as local and national golf media. The Dinner is hosted by MGWA President and emcee Bruce Beck, lead sports anchor at WNBC-TV, News 4 New York.  The MGWA has raised over 1.5 million dollars for Caddie Scholarship programs in the Metropolitan New York area; the MGA Foundation; and the Dave Marr Journalism Scholarship at Columbia University. 
For tickets or additional information, please contact Kate Keller at (914) 347-4653 or kkeller@mgagolf.org.