MGWA National Awards Dinner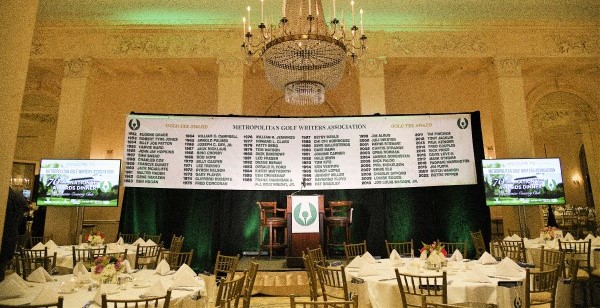 The 2022 MGWA National Awards Dinner was held at
the majestic Westchester Country Club
on Tuesday, June 21st.
This very special evening
celebrated our 70th anniversary
and honored some of golf's 
most prominent and accomplished people:
Gold Tee Award winner Dottie Pepper
Paul Dillon Distinguished Service Award winner Mike Davis
Lincoln Werden Golf Journalism
Award winner Mark Cannizzaro
Winnie Palmer Award winner Ann Liguori
Mary Bea Porter Award winner Pete Jordan
Club of the Year Hempstead Golf & CC
winner Pete Kowalski
Click here to view photos from the Dinner.        
The MGWA has celebrated the game of golf and promoted golf journalism since its inception in 1952.  Each year, it honors the sport's champions and contributors at its largest fundraiser, the National Awards Dinner.  This highly anticipated event is supported by golf's leading organizations and corporate supporters, Met Area clubs and club leaders, as well as local and national golf media. Through the Dinner and other events, the MGWA has raised millions of dollars for the Association's beneficiaries, which include Caddie Scholarship programs in the Metropolitan New York area, the MGA Foundation, and the Dave Marr Journalism Scholarship at Columbia University. 
: