Press Releases
BRIAN CROWELL ELECTED MGWA PRESIDENT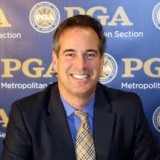 Elmsford, NY (October 20, 2020) --- Brian Crowell, well-known broadcaster and PGA professional, has been elected to a two-year term as President of the Metropolitan Golf Writers Association by the MGWA Executive Committee.
Damon Hack of The Golf Channel has been elected as a new Vice President, joining returning VPs Mark Cannizzaro of the New York Post and Hank Gola, a veteran sportswriter formerly at the New York Daily News.  Outgoing MGWA President Dave Donelson of Westchester Magazine has been named the Association's Treasurer.
Also re-elected as Executive Committee members: former MGWA President Bruce Beck, WNBC-TV; Dan Berger, DMB Media Network; Bill Fields, Freelance; Martin Davis, The American Golfer;  Pete Kowalski, Kowalski Sports and PR; Ann Liguori, Ann Liguori Productions; Bill Meth, JB Sports Service; Peter Morrice, Golf Digest; Jay Mottola, Metropolitan Golf Association; John Paul Newport, Freelance; Pat Norton, On Course Strategies; Bill Pennington, New York Times; Jimmy Roberts, NBC-TV Sports; Chuck Stogel, Freelance.
Crowell, a PGA of America golf instructor since 1991 and past President of the Metropolitan Section of the PGA, is renowned in the golf industry both locally and nationally.  As a member of the CBS Sports broadcast team, Crowell has covered numerous Masters and PGA Championships, and has also covered many U.S. Opens (both men's and women's), Ryder Cup and President's Cup, and U.S. Amateur tournaments.  He hosted "Lesson Tee Live" on the Golf Channel, and "On-Course" on SiriusXM.  He is the Director of Golf at Osiris Country Club and has also authored several books: Slice-Free Golf, The Idiot's Guide to Golf, and Visual Quick Tips: Golf. 
Founded in 1952, the MGWA promotes golf journalism and honors the sport's champions and contributors.  Its largest fundraiser, the National Awards Dinner, is normally attended by nearly 600 guests, representing golf's leading organizations and corporate supporters, Met Area Clubs and Club leaders, as well as local and national golf media. Through the Dinner and other events, the MGWA has raised millions of dollars for Caddie Scholarship programs in the Metropolitan New York area, the MGA Foundation, and the Dave Marr Journalism Scholarship at Columbia University.  MGWA contributions from the 2019 Dinner helped fund college scholarships for over 650 young men and women in the NY Metro area this past academic year.
For more information, contact Robin Sauerhaft, MGWA Executive Administrator, at: rsauerhaft@mgagolf.org