Nancy Lopez to Receive Winnie Palmer Award
NANCY LOPEZ TO RECEIVE WINNIE PALMER AWARD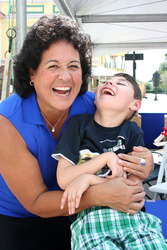 Elmsford, NY (January 30, 2014) — Hall of Famer Nancy Lopez  will receive the Winnie Palmer Award from the Metropolitan Golf Writers Association at the 63rd National Awards Dinner on Monday, June 23 at the Westchester Marriott in Tarrytown, New York.
The Winnie Palmer Award acknowledges an individual who has consistently given their 
time, energy and enthusiasm to those less fortunate.  The award is named in honor of Winnie Palmer, 
who devoted much of her life to charity work for literacy programs and health care.
One of golf's greatest and most popular players for three decades, Lopez joins select company.  
Past Winnie Palmer Award recipients include Barbara Nicklaus, Dolores Hope, Vivienne Player, 
Peggy Kirk Bell, Betsy King, and Ernie Els.
Lopez greatly admired Winnie and shared a special relationship with her and Arnold.  
"What a great choice!," said Mr. Palmer.  "Nancy fits the description of the award perfectly.  
Winnie would be pleased."
For the past 33 years, Lopez has hosted an annual golf tournament to benefit AIM for the Handicapped.  
AIM (Adventures In Motion), based in Dayton, Ohio, helps mentally challenged, physically handicapped, and others, with special needs.  There is never a charge to handicapped children or their parents for their service, and no child is ever turned away.  Lopez is a National Ambassador for AIM.
Lopez, a 48-time LPGA Tour winner including three LPGA Championships, is still the only player to have won the LPGA Player of the Year, Rookie of the Year, and Vare Trophy in the same year (1978). She was inducted into the World Golf Hall of Fame in 1987.
Since 1952, the MGWA has recognized the game's greatest Players, Contributors, and Organizations at its National Awards Dinner – the longest-running and often the largest golf dinner in the U.S. each year.    
Long-time MGWA member Jim Nantz says, "There is no dinner in America that celebrates golf like this one." 
Golf's leading organizations support the dinner – USGA, PGA of America, PGA TOUR, LPGA, MGA, MetLife, 
and Rolex.  The National Awards Dinner has raised over 1.5 million dollars for Caddie Scholarship programs 
in the metropolitan New York area; the MGA Foundation; and the Dave Marr Journalism Scholarship at 
Columbia University. 
For tickets or additional information, please contact:
Kate Keller  (914) 347-4653
Bruce Smith  (914) 944-4445