2018 Silent Auction Winner Shares Prize Photo
The winner of the 2018 MGWA National Awards Dinner Silent Auction prize of an all-expenses-paid 4-day, 3-night trip to The Landings Club at Skidaway Island was kind enough to share this photo from her trip: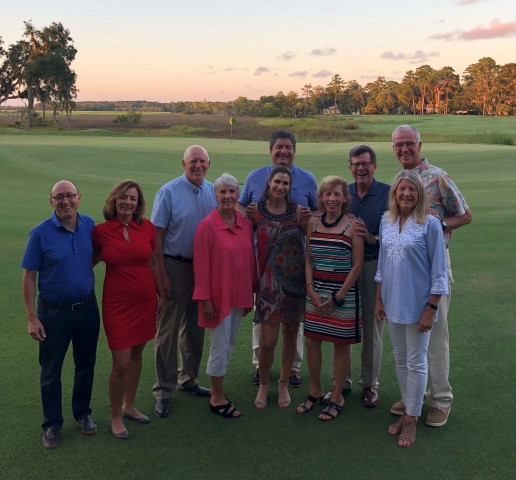 It was an MGA reunion of sorts in Savannah as Liliana Ruiz-Munoz, the 2017 Women's Metropolitan Golf Association Player of the Year, visited The Landings on Skidaway Island with her husband Josue and close friends Eric and Tara Keiter. The two couples, members of Trump National Golf Club in Briarcliff Manor, were the winning bidders for The Landings stay during the charity silent auction at the Metropolitan Golf Writers Association's June 2018 National Awards Dinner. Their visit over Labor Day Weekend became the occasion for a get-together with other Met golfing luminaries, former MGA President Al Small and Nancy Early, the former Executive Director of the WMGA, both of whom now live at the Landings. Joined by MGWA member Paul Lieberman and his wife, the group dined at the Deer Creek clubhouse overlooking the 18th green of the Landings course that hosts the Web.com Tour's annual Savannah Golf Championship, won in spring 2018 by Sam Burns.
During their four-day stay, the visiting New Yorkers also got to play three other of The Landings' six courses and toured historic downtown Savannah, just a 25-minute drive from the gated community on Skidaway Island.
Shown in this photo, taken by the 18th green at Deer Creek, are, from the left: Eric and Tara Keiter; Nancy Early and her husband David Brooks; Liliana Ruiz-Munoz and Josue Munoz; Paul and Heidi Lieberman; and Al and Patty Small.