Dave Marr Journalism Scholarship
Dave Marr Journalism Scholarship at Columbia University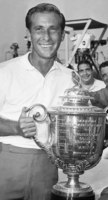 Dave Marr's golf career began at Winged Foot Golf Club, as an Assistant Golf Professional under Claude Harmon.  He later became the Head Professional at Rockaway Hunting Club, and ultimately joined the PGA TOUR, where he won the 1965 PGA Championship and played on (and later captained) the American Ryder Cup team.  Following his golf career, he moved to the broadcast booth where his easy nature, expert commentary and on-camera banter were nothing short of brilliant.
A true son of the PGA of America, Dave meant a great deal not only to the members of the Metropolitan Golf Writers Association, of which he was a long-time member, but to many golfers in the Met area.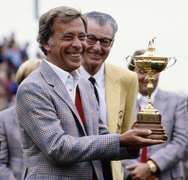 So, in conjunction with its 50th Anniversary Annual Awards Dinner, the MGWA established an endowed scholarship at Columbia University's Graduate School of Journalism to honor our great friend and to help develop sportswriters with a keen interest in writing about golf.  The recipients are known as Marr Scholars and they wear the title as a badge of great distinction and high honor.  Despite today's changing media environment, our Marr Scholars are not only adapting, but leading and thriving at many of the country's top media outlets.
Marr Scholars
| | | |
| --- | --- | --- |
| Graduation Year | Name | Current Employment |
|         2003 | Ben Shpigel | The New York Times |
|         2004 | Brad Sonneborn | FOX  |
|         2005 | Adam Schupak | Golfweek Magazine |
|         2006 | Brian Costa | WSJ |
|         2007 | Jennifer Vrentas | Sports Illustrated and The MMQB  |
|         2008 | Andy Martino | SNY |
|         2009 | Chris Kieffer | Northeast Mississippi Daily Journal  |
|         2010 | Amy Brittain | The Washington Post  |
|         2011 | Amara Grautski | SNY  |
|         2012 | Benjamin Teitelbaum | Sports Illustrated  |
|         2013 | Michael Bebernes | Yahoo! News |
|         2014 | Philip Terrigno | Fordham University  |
|         2015 | Charlotte Gibson | ESPN |
|         2016 | Brittany Romano | Golf Digest  |
|         2017 | Tala Hadavi | CNBC  |
|         2018 | Daniel Ynfante | WHEDco  |
|         2019 | Wufei Yu | Outside Magazine |
|         2020 | Danni Zhou | NBC, PT @ the J-School |