Former MGWA Board Member Honored with Lifetime Achievement Award

FROM THE PGA
Bill Fields named recipient of 2020 PGA Lifetime Achievement Award in Journalism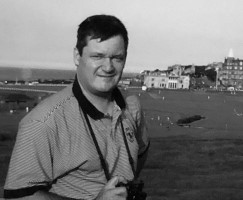 PALM BEACH GARDENS, Fla. – Bill Fields, whose versatile storytelling talent was a staple of Golf World magazine for more than two decades, has been named the recipient of the 2020 PGA of America Lifetime Achievement Award in Journalism.
Fields, a resident of Fairfield, Connecticut, will be honored on April 8 at the ISPS HANDA 48th Golf Writers Association of America (GWAA) Awards Dinner at Savannah Rapids Pavilion in Augusta, Georgia.
Fields, 60, is the 31st recipient of the PGA Lifetime Achievement Award in Journalism, which recognizes members of the media for their steadfast promotion of golf. Fields' work spans 109 men's major championships, eight Ryder Cups, more than 60 women's and PGA Tour Champions majors, and more than 800 Golf World issues.
Since Golf World ended print publication in 2014, Fields has contributed stories to the New York Times, the Met Golfer, Golf World (U.K.) Masters Journal, PineStraw magazine, PGA Magazine, golfdigest.com, USGA.org, Masters.com; MorningRead.com and PGATour.com. Fields has been a contributing researcher for NBC/Golf Channel tournament broadcasts since late 2017.
"Bill Fields is one of the few writers who gives the reader that special insight into learning more about golf's legendary and contemporary stars," said PGA of America President Suzy Whaley. "Bill's passion for golf--whether it is covering a major, researching a statistic or adding his byline to an award-winning story--elevated his profession. The PGA of America is very proud to celebrate Bill among the most honored journalists in the game."
Fields follows former Golf World writers Dick Taylor (1991), Bob Verdi (2004), Jaime Diaz (2012), Tim Rosaforte (2014) and Ron Sirak (2015) as recipients of the award. Fields' professional career began in 1981 as public relations director for the World Golf Hall of Fame and Hall of Fame Tournament, when both were located in Pinehurst. He spent two stints as a sports reporter — with the Athens Banner-Herald in Athens, Georgia (1982-83); and the Asheville (North Carolina) Citizen (1983-84).
Fields was an associate editor for Golf World (1984-86), a senior editor and staff photographer for Golf Illustrated (1986-91), and a freelance photographer (1991-93), with frequent contributions to Golf World and Golf Digest. He rejoined Golf World full-time in September 1993 and remained senior editor through July 2014.
"It's humbling and an honor to join those writers, broadcasters and editors who have previously received this award," said Fields. "I've been lucky to work in this industry. Those of us who have done this for a long time, take a lot of pride in it. You try to tell the best stories you can about the events and the golfers playing in them."
Born in Pinehurst, North Carolina, where Golf World was founded in 1947, and raised in nearby Southern Pines, later home to the publication for many years, Fields' introduction to golf began at age eight.
His first club was a putter, and he graduated to a Sam Snead Blue Ridge model 5-iron. By age 10, his first set of clubs bore the signature of North Carolina's Johnny Palmer, a member of the 1949 Ryder Cup Team. Fields learned the game at two Southern Pines' layouts, the nine-hole Knollwood Fairways and Mid Pines Inn & Golf Club, where he was a golf cart attendant on weekends and during the summer.
"I got my father (Gene) into the game, which made me very happy," said Fields. "I played with him a lot in my teen years. I turned him on to the game."
Fields earned an B.A. in Journalism from the University of North Carolina (1981), serving as sports editor for UNC's student newspaper, The Daily Tar Heel. Fields was mentored by the late Michael Dann, a Golf World staff writer and photographer in the 1970s, who later served at the U.S. Golf Association and ended his career as course rating, handicapping and magazine administrator for the Carolinas Golf Association.
Fields was hired at Golf World by Dick Taylor, the inaugural recipient of the PGA Lifetime Achievement Award in Journalism, and later worked alongside Al Barkow, who won the award in 2005.
"I will always be grateful to Dick Taylor for hiring me at Golf World. My career would have taken a different direction, no doubt, if he hadn't," said Fields. "He was a proponent of covering women's golf, in a time when that wasn't done everywhere. Working for Al Barkow for five years at Golf Illustrated was important for me. When I became a golf-history specialist at Golf World, I owed a lot to Al for helping me appreciate that part of the game."
A board member of the Golf Writers Association of America and Metropolitan Golf Writers Association, Fields has won four GWAA first-place writing awards (1986, '91, 2003, '07) and more than a dozen second- and third-place honors. He authored an anthology, "Arnie, Seve and a Fleck of Golf History" (2014), and in 1993, collaborated with Dr. Richard Coop for "Mind Over Golf." His photo of Larry Mize winning the 1987 Masters was selected as the cover image of "Best Sports Stories 1988."
"Those Sundays and Mondays completing a Golf World issue were hectic," said Fields. "When you finished a story, it was a very good feeling. Starting in 2001, I edited our features, too, and it was a real treat to have a small part in some wonderful articles by fine writers.
"A greater pleasure came from writing in-depth profiles of players like Bert Yancey, a complicated man; and stories about Sam Snead, Jimmy Demaret, Johnny McDermott and an appreciation of Seve Ballesteros. I was lucky to have produced a handful of stories that people may remember."
Fields' profile of Gene Sarazen was included in "The Best American Sports Writing 1996" and seven times his work has been cited as a notable story by the anthology. He was recipient of the 2011 LPGA Global Media Award; and a three-time winner of an International Network of Golf Outstanding Achiever Media Award.