Paul Dillon
Paul Dillon, 1934 - 2021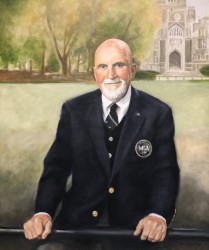 We were saddened to report the passing of Paul R. Dillon on Tuesday, July 20, 2021 at the age of 86.  Paul was the recipient of the 2003 MGWA Distinguished Service Award, and was a talented artist who painted the portraits of numerous MGWA Gold Tee Award winners as well as many of golf's other notable players.  Samples of his work are here on the MGWA website under the Awards Dinner tab in a section entitled, "Dillon Portrait Gallery of Award Winners."  
Paul Dillon was also a past President of the MGA and received their 2010 Distinguished Service Award.  He was deeply involved with the Westchester Golf Association as well as their Caddie Scholarship Fund, serving as the CSF's President from 1997-2001, and he remained an active Director on their Board following his presidency.  He also served as the Fordham University men's golf coach for 22 years and was voted the Atlantic 10 Coach of the Year in 2004.
Paul's impact on Met-area golf was far-reaching, and in recognition of that, the MGWA has renamed one of its highest honors as the Paul Dillon Distinguished Service Award as a tribute to his legacy in the golf community. 
We pass along our thoughts and prayers to the Dillon family.  Paul was a good friend and inspiration to so many of us, and he will be greatly missed.