Carol Semple Thompson to Receive DSA
CAROL SEMPLE THOMPSON TO RECEIVE
DISTINGUISHED SERVICE AWARD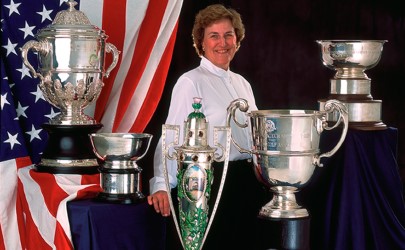 Elmsford, NY (May 10, 2018) – Legendary women's amateur champion and Hall of Famer Carol Semple Thompson will be honored with the Distinguished Service Award by the Metropolitan Golf Writers Association at the 67th National Awards Dinner on Monday, June 18, 2018, at the Westchester Marriott in Tarrytown, New York. The MGWA's Distinguished Service Award recognizes individuals as well as organizations for their contributions and service to golf, and for inspiring others who love this great game.
Ms. Semple Thompson's introduction to golf began virtually from the time she could walk. Her father, Harton Semple, is a past President of the USGA (1974-75) and her mother, Phyllis, served on various USGA committees for years. Phyllis Semple also played competitive golf, and was defeated by her daughter in the finals of the Western Pennsylvania Women's Championship when Carol was just 16.
Ms. Semple Thompson graduated from Hollins University in Roanoke, Virginia in 1970. From there she went on to win the 1973 U.S. Women's Amateur and the following year won the 1974 Ladies' British Open Amateur, making her one of only eleven people to hold both titles. During her storied career, she amassed an incredible and unprecedented 62 amateur title victories. She played in 32 U.S. Women's Open tournaments and holds the record for being on the most Curtis Cup teams and scoring more victories than any other Curtis Cup competitor. She holds the distinction of being one of only five elite players to win three different USGA Championships, along with Arnold Palmer, JoAnne Carner, Jack Nicklaus and Tiger Woods.
Ms. Semple Thompson has earned numerous awards and honors, including the Bobby Jones Award and the PGA of America First Lady of Golf Award. In 2008 she was inducted into the National Golf Coaches Association Hall of Fame as well as the World Golf Hall of Fame (Lifetime Achievement Award).  She was one of the first 14 female members who were admitted to the Royal & Ancient Golf Club of St. Andrews (Scotland); a distinguished group that included Britain's Princess Anne, Annika Sorenstam and Laura Davies.
Since 1952, the MGWA has recognized the game's greatest players, contributors, and organizations at its National Awards Dinner – the longest-running and often the largest golf dinner in the U.S. each year. This annual event is attended by nearly 600 guests, representing golf's leading organizations and corporate supporters, Met Area Clubs and Club leaders, as well as local and national golf media. The Dinner is hosted by MGWA President and emcee Bruce Beck, lead sports anchor at WNBC-TV, New York.
The MGWA has raised over two million dollars for Caddie Scholarship programs in the Metropolitan New York area; the MGA Foundation; and the Dave Marr Journalism Scholarship at Columbia University. 
For tickets or additional information, please contact Robin Sauerhaft at (914) 347-4653 or rsauerhaft@mgagolf.org.