MGWA to Rename its Distinguished Service Award in Honor of Paul Dillon
MGWA to Rename its
Distinguished Service Award
in Honor of Paul Dillon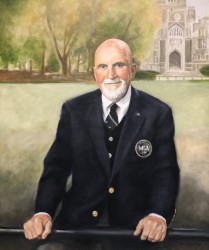 Elmsford, NY (August 24, 2021)  -- The Board of Directors of the Metropolitan Golf Writers Association has unanimously voted to rename the organization's Distinguished Service Award to honor the memory of Paul Dillon, who passed away on July 20th at the age of 85.  This coveted award "honors individuals as well as organizations for their contributions and service to golf, and for inspiring others who love this great game." 
Paul Dillon was the recipient of the 2003 MGWA Distinguished Service Award, and was a talented artist who painted the portraits of numerous MGWA Gold Tee Award winners (click here to view) as well as many of golf's other notable players.  He was a past President of the MGA and also received their Distinguished Service Award in 2010.  He was deeply involved with the Westchester Golf Association as well as their Caddie Scholarship Fund, serving as the CSF's President from 1997-2001, and he remained an active Director on their Board following his presidency.  He also served as the Fordham University men's golf coach for 22 years and was voted the Atlantic 10 Coach of the Year in 2004.
Paul Dillon's impact on Met-area golf was far-reaching, and he was a friend and inspiration to many in the golf community.  In order to perpetuate Paul's legacy, an endowed scholarship for caddies has been started in his name through the Westchester Caddie Scholarship Fund and the MGA Foundation.  Donations in Paul's honor may be made by clicking here.
The MGWA will honor LPGA pioneer and World Golf Hall of Fame member Renee Powell with the first Paul Dillon Distinguished Service Award at their upcoming National Awards Dinner at Winged Foot Golf Club in Mamaroneck, NY on Wednesday, October 6th.  Information and tickets to the Dinner may be found here.