Dick's Sporting Goods to Receive MGWA Bing Crosby Tournament Sponsor Award
DICK'S SPORTING GOODS TO RECEIVE
METROPOLITAN GOLF WRITERS ASSOCIATION'S
 BING CROSBY TOURNAMENT SPONSOR AWARD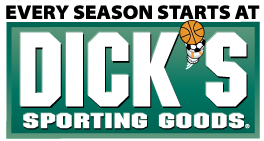 Elmsford, NY (February 26, 2020)— DICK's Sporting Goods has been named as the winner of the Metropolitan Golf Writers Association's prestigious Bing Crosby Tournament Sponsor Award.  The award will be presented at the MGWA's 69th National Awards Dinner on Monday, June 22, 2020 at the Westchester Marriott in Tarrytown, New York.  The Bing Crosby Tournament Sponsor award is presented to an individual or organization that promotes and supports the game of golf through commercial sponsorship of quality events. 
DICK's Sporting Goods has been the title sponsor of the DICK's Sporting Goods Open (DSGO), a popular Champions Tour event held at the En-Joie Golf Club in Endicott, NY, since 2007.  In addition to the competition on the course, the DICK's Open conducts a number of fun events during tournament week, including a 5K walk that incorporates the course along its route and an annual greenside concert that has featured headliners such as Keith Urban, Blake Shelton, Bon Jovi and Maroon 5.  Operated by the Broome County Community Charities, the DICK's Open has donated over $18 million to the community since the tournament's inception.  Major contributions have gone to several health-related causes, providing assistance to the greatest number of community residents.  Other donations have gone to local causes, including the remodeling of the Boys and Girls Club of Western Broome County and the building of a new Community Meeting Hall at the Endicott Visitor's Center.
The MGWA has celebrated the game's greatest players, contributors, and organizations at its National Awards Dinner – the longest-running and often the largest golf dinner in the U.S. each year – since 1952. This annual event is attended by nearly 600 guests, representing golf's leading organizations, corporate supporters, Met Area Clubs and Club leaders, as well as local and national golf media. This year's Dinner will be hosted by MGWA Vice President/PGA Professional and Sirius XM Radio Personality Brian Crowell.
The MGWA has raised well over two million dollars for Caddie Scholarship programs in the Metropolitan New York area; the MGA Foundation; and the Dave Marr Journalism Scholarship at Columbia University.  MGWA contributions from the 2019 Dinner helped fund college scholarships for over 650 young men and women in the NY Metro area this academic year.
Tickets to the Dinner, as well as raffle tickets, may be purchased at www.metgolfwriters.org (you need not be present at the Dinner to win a raffle prize).  For additional information, please contact Robin Sauerhaft at (914) 347-4653 or rsauerhaft@mgagolf.org.
Follow us on Facebook and Instagram at Met Golf Writers Association,
and on Twitter at @metgolfwriters