Renee Powell to Receive MGWA Distinguished Service Award
RENEE POWELL TO RECEIVE
METROPOLITAN GOLF WRITERS ASSOCIATION'S
DISTINGUISHED SERVICE AWARD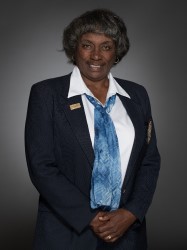 Elmsford, NY (January 30, 2020) – Renee Powell will be honored with the Distinguished Service Award by the Metropolitan Golf Writers Association at its 69th National Awards Dinner.  The award will be presented on Monday, June 22, 2020 at the Westchester Marriott in Tarrytown, New York. The MGWA's Distinguished Service Award recognizes individuals as well as organizations for their contributions and service to golf, and for inspiring others who love this great game.
"Renee has been such an inspiration to us all that selecting her for the Distinguished Service Award was a very easy decision," according to MGWA President Dave Donelson. "She has not only advanced the game of golf, she has made the world a better place."
Renee Powell began her career in golf in Canton, Ohio at the tender age of three, when her father, Bill – the first African American to build his own golf course – created miniature clubs for his daughter and taught her how to use them.  He taught her well:  By her early teens, she had won over 30 tournaments.  She became captain of her golf team at Ohio University (and then at Ohio State University after transferring there) and became the second African American player on the LPGA in 1967.  She overcame pervasive racial discrimination – including death threats and refusals of hotel rooms and restaurant service – and competed in over 250 professional tournaments, winning the 1973 Kelly Springfield Open in Brisbane, Australia. 
After retiring from the LPGA in 1980, Ms. Powell became a TV commentator for both CBS and ABC.  In 1995, she became the Head Professional at Clearview Golf Club, a position she holds to this day.  She has devoted her life to diversifying the game of golf by becoming an International Goodwill Ambassador and traveling to Africa countless times to host golf clinics.  She is also committed to exposing more youth, minorities, women, seniors and military Veterans to the game.  In 2011 she initiated Clearview HOPE (Helping Our Patriots Everywhere) for female Veterans, a free recreational and therapeutic program that has helped nearly 200 local Veterans improve their mental, physical, social, and emotional well-being.
Renee Powell is a member of both the PGA of America Hall of Fame and the Ohio Golf Hall of Fame.  Her father is also in the PGA of America Hall of Fame, making them the only father/daughter duo to receive this honor.  She is also the recipient of numerous awards including the NGF's Jack Nicklaus Golf Family Award (1992), the LPGA Service Award (1999), the PGA's First Lady of Golf Award (2003), and the Black Enterprise Woman of Power Award (2016).  She was inducted into the Stark County Amateur Hall of Fame in 2013, and she and her family were honored with the GCSA's Old Tom Morris Award in 2019.
The MGWA has celebrated the game's greatest players, contributors, and organizations at its National Awards Dinner – the longest-running and often the largest golf dinner in the U.S. each year – since 1952. This annual event is attended by nearly 600 guests, representing golf's leading organizations, corporate supporters, Met Area Clubs and Club leaders, as well as local and national golf media. This year's Dinner will be hosted by MGWA Vice President/PGA Professional and Sirius XM Radio Personality Brian Crowell.
The MGWA has raised well over two million dollars for Caddie Scholarship programs in the Metropolitan New York area; the MGA Foundation; and the Dave Marr Journalism Scholarship at Columbia University. MGWA contributions from the 2019 Dinner helped fund college scholarships for over 650 young men and women in the NY Metro area this academic year.
Tickets to the Dinner, as well as raffle tickets, may be purchased at www.metgolfwriters.org (you need not be present at the Dinner to win a raffle prize).  For additional information, please contact Robin Sauerhaft at (914) 347-4653 or rsauerhaft@mgagolf.org.
Follow us on Facebook and Instagram at Met Golf Writers Association,
and on Twitter at @metgolfwriters
*Photo courtesy of PGA of America