Davis Love III to Receive Gold Tee Award
DAVIS LOVE III TO RECEIVE 2016 GOLD TEE AWARD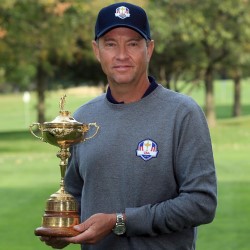 Elmsford, NY   (March 1, 2016) — Davis Love III, one of the best players of his generation and widely respected for upholding the finest ideals of the sport throughout an illustrious career, will receive one of golf's most important honors—the Gold Tee Award—from the Metropolitan Golf Writers Association at the 65th National Awards Dinner on Monday, July 25, at the Westchester Marriott in Tarrytown, New York.
"Davis stands for all that is good in golf," said MGWA President Bruce Beck. "He is a true sportsman, a leader, a family man and the perfect recipient of our prestigious Gold Tee Award."
A 21-time champion on the PGA TOUR who will captain the United States Ryder Cup team for a second time this fall, Love joins select company as a Gold Tee honoree. The award's past recipients include the biggest names in golf: Bobby Jones, Ben Hogan, Arnold Palmer, Jack Nicklaus, Gary Player, Nancy Lopez, Tom Watson, Annika Sorenstam, Phil Mickelson and last year's winner, Nick Price.
Love, 51, won his only major title, the 1997 PGA Championship, in the Metropolitan area, defeating good friend Justin Leonard at Winged Foot Golf Club and producing one of the game's dramatic storybook moments when a rainbow appeared as Love was wrapping up his victory on the 72nd green.
Son of the late Davis Love Jr., a top teaching professional, and his wife, Penta, Love also won THE PLAYERS Championship in 1992 and 2003. He was runner-up in two Masters (1995, 1999) and tied for second in the 1996 U.S. Open. When Love broke a seven-year drought at the 2015 Wyndham Championship, he became only the seventh golfer over age 50 to win a PGA TOUR event.
Love, a longtime resident of St. Simons Island, Georgia, who has two children (Alexia and Davis IV) with wife Robin, has previously been recognized for his character and sportsmanship with the Payne Stewart Award (2008) and Bob Jones Award (2013). He also received the USGA's 1997 Herbert Warren Wind Book Award for Every Shot I Take.
Since 1952, the MGWA has recognized the game's greatest players, contributors, and organizations at its National Awards Dinner – the longest-running and often the largest golf dinner in the U.S. each year.
A special video celebrates the six decades of the MGWA National Awards Dinner …   https://vimeo.com/63849701
MGWA member Jim Nantz says, "There is no dinner in America that celebrates golf like this one."
Golf's leading organizations – PGA of America, PGA TOUR, LPGA, USGA, MGA and top companies – Rolex, MetLife and KPMG, support the National Awards Dinner.  The MGWA has raised over 1.5 million dollars for Caddie Scholarship
programs in the Metropolitan New York area; the MGA Foundation; and the Dave Marr Journalism Scholarship at Columbia University. 
For tickets or additional information, please contact:
Kate Keller:  (914) 347-4653, kkeller@mgagolf.org
Bruce Smith:  (914) 944-4445, brucesmith@sportybear.com