Tim Rosaforte to Receive Lincoln Werden Golf Journalism Award
Tim Rosaforte to Receive
Lincoln Werden Golf Journalism Award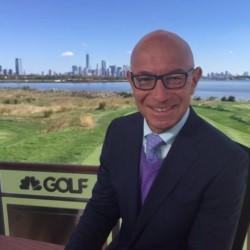 Elmsford, N.Y. (April 4, 2016) — Tim Rosaforte, one of golf's most prolific writers and insiders, will receive the Lincoln Werden Golf Journalism Award from the Metropolitan Golf Writers Association at the 65th National Awards Dinner on Monday, July 25 at the Westchester Marriott in Tarrytown, N.Y.
Past 'Linc' Werden Golf Journalism Award recipients include Dan Jenkins, Jack Whitaker, Dave Anderson, Jim Murray, Jim McKay, and Jim Nantz.    
A senior writer for Golf World/Golf Digest and insider/analyst for Golf Channel/NBC, Rosaforte has successfully transferred his unique coverage of golf from print to television while continuing to work in both arenas.
 "Tim has more contacts than Google.  He has everyone's cell phone number and everyone takes his calls." said Ron Sirak, last year's recipient of the MGWA Golf Journalism Award.  "He is a journalist who not only made the transition from print to TV, but was also able to remain standing with one foot planted firmly in both worlds." 
A native of Brewster, N.Y., Rosaforte has won numerous writing awards, including the 2014 PGA of America Lifetime Achievement in Journalism.
Rosaforte has written five books:  "The PGA Tour" (1990);  "Heartbreak Hill: Anatomy of a Ryder Cup" (1996); "Tiger Woods: The Makings of a Champion" (1997); "World Golf Hall of Fame Yearbook" (with Jaime Diaz, 1998); and "Raising the Bar: The Championship Years of Tiger Woods" (2000).
He has also covered golf for Sports Illustrated, Golf Illustrated, Links Magazine, and several Florida newspapers.
Rosaforte joined Golf Channel in 2007, and contributes to Morning Drive, Golf Central and the network's Live From programming, airing on-site from the game's biggest events.  He has served as an analyst for USA Network's PGA TOUR Sunday as well as USA's early round coverage of PGA TOUR events, The Masters and the Ryder Cup.
Tim and his wife, Genevieve, live in Jupiter, Fla., and are parents of daughters, Genna and Molly.
Rosaforte will join Davis Love III, the winner of the prestigious Gold Tee Award, at the National Awards Dinner.  Additional MGWA award recipients will be announced in the coming weeks.
Since 1952, the MGWA has recognized the game's greatest players, contributors, and organizations at its National Awards Dinner – the longest running and often the largest golf dinner in the U.S. each year. A special video celebrates the six decades of the Dinner: https://vimeo.com/63849701
Long-time MGWA member Jim Nantz says, "There is no dinner in America that celebrates golf like this one."
Golf's leading organizations – PGA of America, PGA TOUR, LPGA, USGA, MGA and top companies – Rolex, MetLife and KPMG, support the National Awards Dinner.  The MGWA has raised more than 1.5 million dollars for Caddie Scholarship programs in the Metropolitan New York area;  the MGA Foundation; and the David Marr Memorial Scholarship at the Columbia University Graduate School of Journalism. 
For tickets or additional information, please contact:
Kate Keller:  (914) 347-4653, kkeller@mgagolf.org
Bruce Smith:  (914) 944-4445, brucesmith@sportybear.com