Notah Begay III to be Honored with the Winnie Palmer Award
Notah Begay III to be Honored with the
Winnie Palmer Award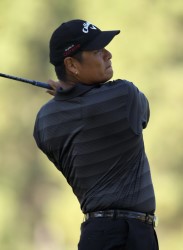 Elmsford, NY (July 8, 2016) — Notah Begay III will be honored with the Winnie Palmer Award by the Metropolitan Golf Writers Association at the 65th National Awards Dinner on Monday, July 25, 2016, at the Westchester Marriott in Tarrytown, New York. The MGWA's Winnie Palmer Award acknowledges an individual who consistently gives their time, energy, and enthusiasm to those less fortunate.
Four-time PGA TOUR winner Notah Begay III created the NB3 Foundation in 2003 to fight the epidemics of childhood obesity and Type 2 diabetes among Native American children. Begay is the only full-blooded Native American to play on the PGA TOUR, and currently serves as a TV golf analyst for NBC Sports and the Golf Channel.
The NB3 Foundation began with a golf program headed by Notah's father, Notah Begay, Jr., and has grown to invest $2.3 million in 59 Native American communities in 14 states to implement data-driven, community-led strategies to fight childhood obesity.  It has also provided $7 million in direct service programming such as food access pilot projects, physical activity camps and clinics, and research by the Johns Hopkins Center for American Indian Health.
The Winnie Palmer Award was named in honor of Arnold Palmer's wife (now deceased), who devoted much of her life to charity work for literacy programs and health care. Past recipients include Barbara Nicklaus, Nancy Lopez and Ernie Els.
Other MGWA award recipients this year include Davis Love III (Gold Tee Award), Tim Rosaforte (Linc Werden Golf Journalism Award), Century Country Club (Club of the Year), the Bradley family (Family of the Year), and Jay Mottola, (Distinguished Service Award).
Since 1952, the MGWA has recognized the game's greatest players, contributors, and organizations at its National Awards Dinner – the longest running and often the largest golf dinner in the U.S. each year. A special video celebrates the six decades of the Dinner: https://vimeo.com/63849701
Long-time MGWA member Jim Nantz says, "There is no dinner in America that celebrates golf like this one."
Golf's leading organizations – PGA of America, PGA TOUR, LPGA, USGA, MGA and top companies – Rolex, MetLife and KPMG, support the National Awards Dinner.  The MGWA has raised more than 1.5 million dollars for Caddie Scholarship programs in the Metropolitan New York area;  the MGA Foundation; and the David Marr Memorial Scholarship at the Columbia University Graduate School of Journalism. 
For tickets or additional information, please contact:
Kate Keller:  (914) 347-4653, kkeller@mgagolf.org
Bruce Smith:  (914) 944-4445, brucesmith@sportybear.com