Clone of PGA HOPE to Receive MGWA's 2019 Distinguished Service Award
NATIONAL PGA HOPE PROGRAM TO RECEIVE
METROPOLITAN GOLF WRITERS ASSOCIATION'S
DISTINGUISHED SERVICE AWARD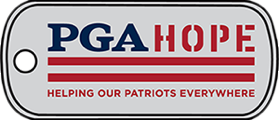 Elmsford, NY (February 6, 2019) – PGA HOPE (Helping Our Patriots Everywhere), the flagship military program of PGA REACH, will be honored with the Distinguished Service Award by the Metropolitan Golf Writers Association at its 68th National Awards Dinner on Monday, May 13, 2019, at the Westchester Marriott in Tarrytown, New York. The MGWA's Distinguished Service Award recognizes individuals as well as organizations for their contributions and service to golf, and for inspiring others who love this great game.
PGA REACH, the PGA of America's 501 (c)(3) charitable foundation, developed PGA HOPE to introduce golf to our nation's disabled Veterans in order to enhance their mental, physical, social and emotional well-being. Veterans are recruited through local VA hospitals, warrior transition units and other Veteran service organizations to participate in a six- to eight-week adaptive program that introduces the Veterans to golf in a nurturing, friendly atmosphere. The program is designed to enhance the participants' overall quality of life, and to assist those with disabilities to assimilate back into their communities. It is completely free of charge and participants' companions and/or therapists are also welcome to attend. Local PGA Professionals who are trained to instruct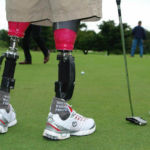 Veterans with both physical and emotional disabilities teach the various skills needed to navigate the golf course. Each program usually ends with a celebration that includes golf and lunch for the Veterans and their families. Veterans also receive a graduation card that affords them with golf-related benefits in their local area.
The MGWA has recognized the game's greatest players, contributors and organizations at its National Awards Dinner – the longest-running and often the largest golf dinner in the U.S. each year – since 1952. This annual event is attended by nearly 600 guests, representing golf's leading organizations, corporate supporters, Met Area Clubs and Club leaders, as well as local and national golf media. This year's Dinner is sponsored by Rolex, PGA of America, RBC, USGA, ShopRite, Eiger Marketing Group, Sterling National Bank, Broadridge, Callaway, LPGA and MGA and will be hosted by MGWA Vice President/PGA Professional and Sirius XM Radio Personality Brian Crowell.
The MGWA has raised well over two million dollars for Caddie Scholarship programs in theMetropolitan New York area, the MGA Foundation and the Dave Marr Journalism Scholarship at Columbia University. 
For tickets or additional information, please contact Robin Sauerhaft at (914) 347-4653 or rsauerhaft@mgagolf.org.