Nick Price to Receive MGWA Gold Tee Award
NICK PRICE TO RECEIVE 2015 GOLD TEE AWARD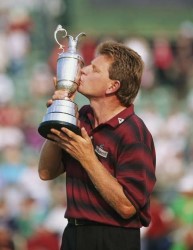 Elmsford, NY   (February  17, 2015) — World Golf Hall of Fame inductee Nick Price  will receive one of golf's most prestigious honors -- the Gold Tee Award -- from the Metropolitan Golf Writers Association at the 64th National Awards Dinner on Tuesday, June 9 at the Westchester Marriott in Tarrytown, N.Y.
Widely regarded as one of the nicest people in the game, Price joins select company as the list of past Gold Tee recipients reads like a "Who's Who" of Golf: Bobby Jones, Ben Hogan, Arnold Palmer, Jack Nicklaus, Gary Player, Nancy Lopez, Tom Watson, Annika Sorenstam, Phil Mickelson, and last year's honoree Fred Couples.
The Gold Tee is the MGWA's highest honor, awarded to an individual whose career achievements exemplify the best spirit and traditions of the sport of golf.
Price won three major championships during his illustrious career, the 1992 and 1994 PGA Championships, and the 1994 Open Championship (British Open).  In August 1994, Price was ranked number one in the world, a position he held for 43 consecutive weeks; a stretch that has only been bettered by Tiger Woods.
Born in South Africa, raised in Zimbabwe, Price won 18 PGA TOUR events as well as 24 international victories.  In both 1993 (four wins) and 1994 (six), he was the PGA TOUR Player of the Year, the PGA of America Player of the Year, and the PGA TOUR's leading money winner.  Price, 58, was inducted into the World Golf Hall of Fame in 2003.
This October in South Korea, Price will once again captain the International team in the Presidents Cup.  In 2013, the Fred Couples-led U.S. team defeated Price's International team, 18.5 to 15.5.  Price played in five Presidents Cups (1994-2003). 
"As great a player as Nick Price has been, he's even a better person," said MGWA President Bruce Beck. "We're very excited to honor Nick with the Gold Tee Award."
Since 1952, the MGWA has recognized the game's greatest players, contributors, and organizations at its National Awards Dinner,  the longest-running and often the largest golf dinner in the U.S. each year.  A special video celebrates the six decades of the Dinner …   https://vimeo.com/63849701
Longtime MGWA member Jim Nantz says,  "There is no dinner in America that celebrates golf like this one."
Golf's leading organizations – PGA of America, PGA TOUR, LPGA, USGA, MGA and top companies – MetLife, KPMG, and Rolex support the National Awards Dinner.  The MGWA has raised over 1.5 million dollars for Caddie Scholarship programs in the metropolitan New York area; the MGA Foundation; and the Dave Marr Journalism Scholarship at Columbia University. 
For tickets or additional information, please contact:
Kate Keller:  (914) 347-4653, kkeller@mgagolf.org
Bruce Smith:  (914) 944-4445, brucesmith@sportybear.com