Ron Sirak to Receive Lincoln Werden Golf Journalism Award
RON SIRAK TO RECEIVE
LINCOLN WERDEN GOLF JOURNALISM AWARD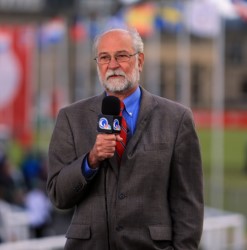 Elmsford, NY (March 2, 2015) — Award-winning golf writer and author Ron Sirak will receive the Lincoln Werden Golf Journalism Award from the Metropolitan Golf Writers Association at the 64th National Awards Dinner on June 9th at the Westchester Marriott in Tarrytown, New York.
One of golf's most respected journalists, Sirak joins select company.  Past Lincoln Werden Golf Journalism Award recipients include Dan Jenkins, Jack Whitaker, Dave Anderson, Jim Murray, Jim McKay, and Jim Nantz.
Sirak, who was instrumental in the transformation of national coverage of women's golf, is a Senior Writer for Golf Digest and the former Executive Editor of Golf World.  Prior to joining the magazines in 1998, he worked for the Associated Press for 18 years, beginning in 1980 as a News Editor before becoming Deputy Sports Editor and then Golf Writer.  To date, Sirak has covered more than 140 men's and women's major championships, along with 10 Ryder Cups and seven Solheim Cups.  In 2005, he became the first journalist to cover four men's and four women's majors in a season. When the LPGA added a fifth major, Sirak covered nine total major championships in 2013.
Sirak's impact on golf journalism is more than just covering tournaments. He has always pushed to expand the scope of what it meant to cover golf.  Among his countless bylines, a few stand out – Payne Stewart's death in 1999 writing 2,200 words in three hours on a Golf World deadline;  and a piece in 2001 on how 9/11 impacted both private Winged Foot, which lost members in the terror attacks, and public Van Cortlandt Park, where many first responders played. 
Sirak is the author of three books with noted golf instructors Pia Nilsson and Lynn Marriott: "Every Shot Must Have a Purpose,"  "The Game Before the Game" and "Play Your Best Golf Now."
Sirak is a past-President of both the Metropolitan Golf Writers Association and the Golf Writers Association of America, an organization from which he has won more than a dozen writing awards; including top honors for a piece on a humanitarian trip to Rwanda, Africa with six LPGA players led by Betsy King to help orphans in the war- and AIDS-ravaged country.  He was also honored by the AP Sports Editors in 1997 for best overall writing for his feature on the economic impact of Tiger Wood's first year as a professional. 
On April 8th, Sirak will receive the PGA of America Lifetime Achievement in Journalism Award in Augusta, Georgia.
"Ron Sirak gets us to the heart of a story, connecting us with amazing personalities in our game while also delivering balanced reporting on issues affecting our industry," said PGA of America President Derek Sprague.  "Ron is one of the most trusted voices in golf."
 
Nick Price (Gold Tee Award winner) will join Sirak at the National Awards Dinner.  Additional MGWA award recipients will be announced in the coming weeks.
Since 1952, the MGWA has recognized the game's greatest Players, Contributors, and Organizations at its National Awards Dinner – the longest running and often the largest golf dinner in the U.S. each year.  A special video celebrates the six decades of the Dinner:  https://vimeo.com/63849701
Long-time MGWA member Jim Nantz says, "There is no dinner in America that celebrates golf like this one."
Golf's leading organizations – PGA of America, PGA TOUR, LPGA, USGA, MGA and top companies – MetLife, KPMG, and Rolex support the National Awards Dinner.  The MGWA has raised over 1.5 million dollars for Caddie Scholarship programs in the metropolitan New York area; the MGA Foundation; and the Dave Marr Journalism Scholarship at Columbia University. 
For tickets or additional information, please contact:
Kate Keller:  (914) 347-4653, kkeller@mgagolf.org
Bruce Smith:  (914) 944-4445, brucesmith@sportybear.com