The Player Foundation to Receive Winnie Palmer Award
THE PLAYER FOUNDATION TO RECEIVE
WINNIE PALMER AWARD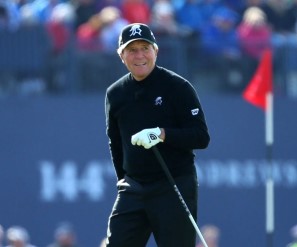 Elmsford, NY   (March 26, 2015) — The Player Foundation and World Golf Hall of Famer Gary Player will receive the Winnie Palmer Award from the Metropolitan Golf Writers Association at the 64th National Awards Dinner on Tuesday, June 9th at the Westchester Marriott in Tarrytown, New York.
Established by the Player family in 1983, The Player Foundation has provided quality education, nutrition, medical care and extra-curricular activities for underprivileged children around the globe.  Today, through several annual events staged in the U.S., Asia, Europe and South Africa, the foundation has raised more than $50 million for these important causes. 
The Winnie Palmer Award acknowledges an individual who has consistently given their time, energy and enthusiasm to those less fortunate.  The Award is named in honor of Winnie Palmer, who devoted much of her life to charity work for literacy programs and health care.  Past recipients include Barbara Nicklaus, Dolores Hope, Vivienne Player, Betsy King, Peggy Kirk Bell, and Ernie Els.  Created by the Metropolitan Golf Writers Association in 2000, the Winnie Palmer Award has been sponsored by Rolex Watch USA since its inception.
Each year, Black Knight International, in conjunction with The Player Foundation, manages and runs a series of four prestigious golf events on four continents which raises more than a million dollars annually.  "What the Gary Player family and their entire company has done for others is remarkable," MGWA President Bruce Beck said. "The Player Foundation provides hope, just like Winnie Palmer did for so long."
Other MGWA award winners Nick Price (Gold Tee Award) and Ron Sirak (Lincoln Werden Golf Journalism Award) will join Player on June 9th. Additional MGWA Award Recipients will be announced in the coming weeks.
Since 1952, the MGWA has recognized the game's greatest players, contributors, and organizations at its National Awards Dinner – the longest-running and often the largest golf dinner in the U.S. each year.  A special video celebrates the six decades of the MGWA National Awards Dinner:   https://vimeo.com/63849701
MGWA member Jim Nantz says, "There is no dinner in America that celebrates golf like this one."
Golf's leading organizations -- PGA of America, PGA TOUR, LPGA, USGA, MGA -- and top companies MetLife, KPMG, and Rolex support the National Awards Dinner.  The MGWA has raised over 1.5 million dollars for Caddie Scholarship programs in the metropolitan New York area; the MGA Foundation; and the Dave Marr Journalism Scholarship at Columbia University. 
For tickets or additional information, please contact:
Kate Keller:  (914) 347-4653, kkeller@mgagolf.org
Bruce Smith:  (914) 944-4445, brucesmith@sportybear.com