Bruce Beck Re-Elected President of MGWA
BRUCE BECK RE-ELECTED PRESIDENT OF MGWA
Association Donates $32,000 to Charities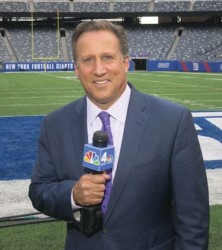 Elmsford, NY   (October 9, 2015) —Bruce Beck, lead TV sports anchor of NBC-TV 4 New York, has been elected to a third one-year term as president of the Metropolitan Golf Writers Association by the MGWA Executive Committee.
Mark Cannizzaro of the New York Post, Dave Donelson of Westchester Magazine and freelancer Bill Fields were elected Vice Presidents. Brian Crowell of the Met PGA was named Treasurer.
Also re-elected as Executive Committee members: Dave Anderson, New York Times; Dan Berger, DMB Media Network; Martin Davis, The American Golfer; Damon Hack, Golf Channel; Pete Kowalski, USGA; Ann Liguori, Ann Liguori Productions; Bill Meth, JB Sports Service; Peter Morrice, Golf Digest; Jay Mottola, Metropolitan Golf Association; John Paul Newport, Wall Street Journal; Pat Norton, On Course Strategies; Bill Pennington, New York Times; Jimmy Roberts, NBC Sports; Ron Sirak, Golf Digest; Chuck Stogel, freelance.
Beck is in his 18th year at WNBC where, among other assignments, he hosts the Sunday late night show, Sports Final. A winner of eight New York Emmy Awards and named New York State Sportscaster of the Year seven times (2007-12, 2014) by the National Sportscasters and Sportswriters Association, Beck covers the gamut of sports in the Metropolitan area along with national and international assignments for WNBC-TV.
The MGWA Executive Committee elected to donate $8,000 to each of its main charitable entities --- a total of $32,000 --- based on revenues raised in 2015. The association will make the contributions to the three respective caddie scholarship programs of Long Island, New Jersey and Westchester, plus the MGA Foundation. The MGWA's annual National Awards Dinner is the major fund-raising activity for the group, in addition to several other events it conducts.
The Executive Committee elected to continue its partnership with Bruce Smith of Sporty Bear Productions as Marketing Director for its upcoming Awards Dinner for a fourth consecutive year.
The MGWA was founded in 1952 to promote golf journalism, honor golf's champions and contributors, and raise funds for Met-area caddie scholarship programs, and subsequently added the MGA Foundation as a regular charitable recipient. The association funds the Dave Marr Journalism Scholarship for a graduate student each year at Columbia University.
For additional information about the MGWA, please contact Kate Keller at (914) 347-4653 or kate@metgolfwriters.org.