Mark Cannizzaro to Receive MGWA's Lincoln Werden Golf Journalism Award
MARK CANNIZZARO TO RECEIVE
THE METROPOLITAN GOLF WRITERS ASSOCIATION'S
LINCOLN WERDEN AWARD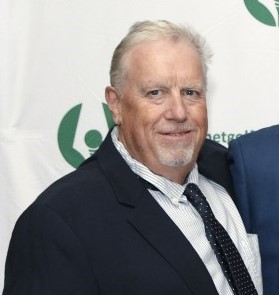 ELMSFORD, N.Y. (April 12, 2022)  Veteran New York sportswriter Mark Cannizzaro will be honored with the Lincoln Werden Golf Journalism Award by the Metropolitan Golf Writers Association at its 70th National Awards Dinner on Tuesday, June 21, 2022. The Dinner will take place in Rye, N.Y. at Westchester Country Club, which will be celebrating its 100th anniversary in 2022.  Previously announced award winners include Dottie Pepper (Gold Tee Award) and Mike Davis (Paul Dillon Distinguished Service Award).
Cannizzaro is a lifelong resident of the Metropolitan Area, born in Port Chester, NY, raised in Fairfield, CT, and now splitting his time between the Jersey Shore and Manhattan with his wife, Carolyn Waters.
He went to Ithaca College, where he played on the soccer and tennis teams and joined the New York Post sports department in 1993 as the New York Jets beat writer and golf correspondent. In 2010, Cannizzaro became a columnist at The Post and continues to cover football and golf among other sports.
He's covered more than 100 major championships, spanning all 15 of Tiger Woods' majors, and every Ryder Cup since 1997. In addition to golf, Cannizzaro has covered college basketball, soccer, tennis, the NHL and NBA and numerous other sports. 
Cannizzaro has written three books, the latest of which was "Seven Days at Augusta: Behind the scenes at the Masters,'' which was published in 2020. He's won several writing and reporting awards along the way, but perhaps his most cherished prize came when he won $10 in a putting contest with Phil Mickelson in Mickelson's backyard putting green.
"Cannizzaro is a highly-respected name in the sports journalism field. His contributions, especially in the NY market, have informed and engaged his audience for decades," MGWA President Brian Crowell said. "Whether it's the NFL or golf's Major Championships, you can always feel the passion and appreciate the research in Mark's coverage. We're proud to announce him as our 2022 Lincoln Werden Award winner."
The MGWA's Lincoln Werden Journalism Award is presented to a writer, broadcaster, photographer, artist, or other individual for outstanding contributions in the field of golf journalism. Previous recipients for this prestigious award include notable correspondents Jim McKay, Peter Alliss, Chris Schenkel and Pulitzer Prize winner Dave Anderson. Recent recipients include Jaime Diaz (2017), Hank Gola (2018), Larry Dorman (2019) and Johnny Miller (2020-21).
The MGWA has celebrated the game of golf and promoted golf journalism since its inception in 1952.  Each year, it honors the sport's champions and contributors at its largest fundraiser, the National Awards Dinner.  This highly anticipated event is supported by golf's leading organizations and corporate supporters, Met Area clubs and club leaders, as well as local and national golf media. Through the Dinner and other events, the MGWA has raised millions of dollars for the Association's beneficiaries, which include Caddie Scholarship programs in the Metropolitan New York area, the MGA Foundation, and the Dave Marr Journalism Scholarship at Columbia University.  
For tickets to the Dinner, click here.  For more information, contact Robin Sauerhaft, MGWA Executive Administrator, at: rsauerhaft@mgagolf.org