Mike Davis to Receive MGWA's Paul Dillon Distinguished Service Award
MIKE DAVIS TO RECEIVE
METROPOLITAN GOLF ASSOCIATION'S
PAUL DILLON DISTINGUISHED SERVICE AWARD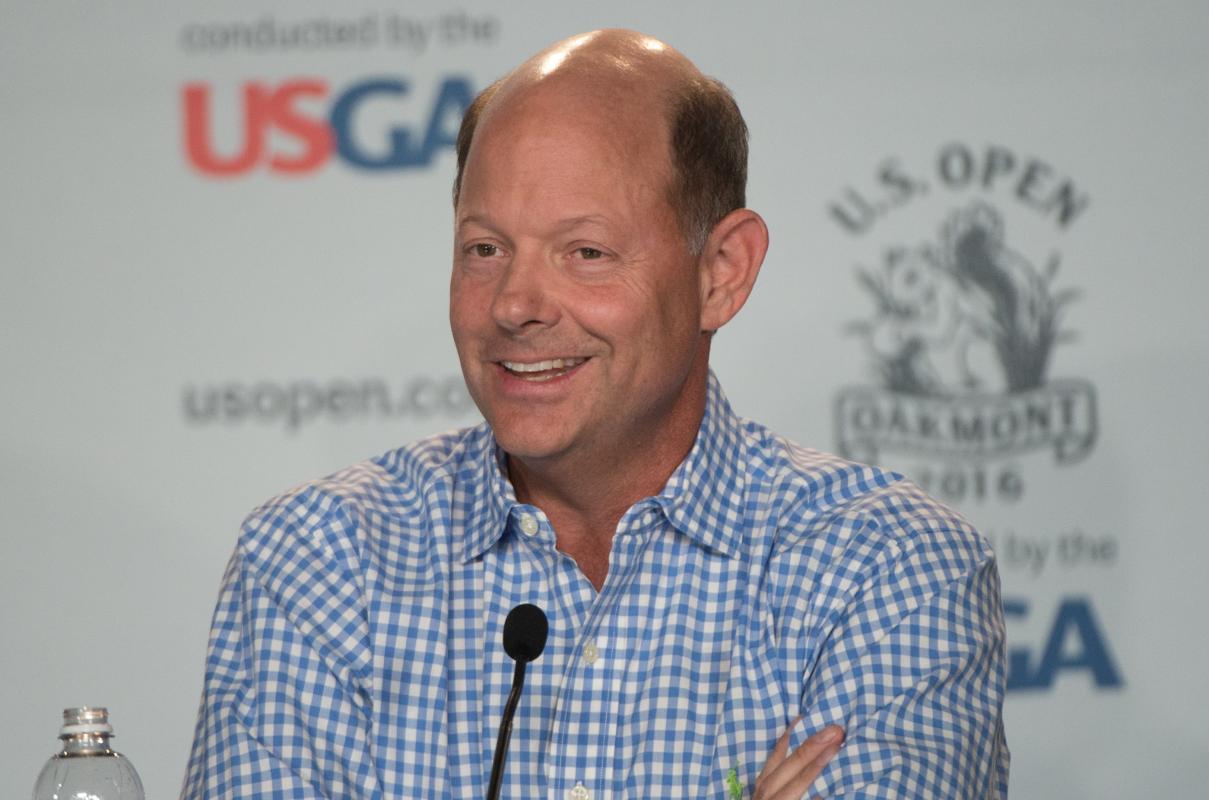 Elmsford, NY (March 29, 2022) – Former USGA CEO Mike Davis will be honored with the Metropolitan Golf Writers Association's 2022 Paul Dillon Distinguished Service Award at its 70th annual National Awards Dinner.  The award will be presented on Tuesday, June 21st at Westchester Country Club in Rye, New York. The MGWA's Paul Dillon Distinguished Service Award recognizes individuals as well as organizations for their contributions and service to golf, and for inspiring others who love this great game.  
Mike Davis' infatuation with golf began at age 8, when the Chambersberg, PA native was introduced to the game by his father, Bill.  He became an accomplished junior golfer and won the 1982 Pennsylvania State Junior Championship.  He then went on to play on the Georgia Southern University golf team in Statesboro, Georgia. 
After a short stint in commercial real estate, Mr. Davis began working for the USGA as Manager of Championship Relations, where his responsibilities included becoming proficient in the Rules of Golf and setting up U.S. Open courses.  He quickly learned how challenging it was to set up a championship course, and how seemingly small factors such as changes in the weather or hole placements, length of rough and other considerations could have a tremendous impact the result of the tournament. 
Seven years after joining the USGA, Davis became Championship Director.  Four years later, he was named Executive Director, replacing the retiring David Fay.  Five years after that, he was appointed the USGA's first CEO.
"Mike has been a transformative leader in golf and his actions to move the USGA forward have been numerous and decisive," USGA President Stu Francis said.  During his tenure at the USGA, Davis had far-reaching and long-lasting impact on various aspects of the game.  He changed the way U.S. Open courses are set up, notably by introducing graduated rough and driveable par-4s.  He oversaw the revisions to the Rules of Golf, created stronger corporate relationships and was instrumental in driving the "Distance Insights" project – a joint initiative with the R&A that studies the past, present and future impacts of distance in golf.  And he has overseen the development of Golf House in Pinehurst, NC.  He recently retired from the USGA to pursue his passion for golf architecture, where he and Tom Fazio II will join forces in their new venture, Fazio & Davis Golf Design.  "Throughout his impactful career, Mike has been a powerful advocate for golf. We are grateful for his leadership and continuing dedication to our sport," said MGWA President Brian Crowell. "This is a fitting and very well-deserved honor. The MGWA is proud to present Mike Davis with the 2022 Paul Dillon Distinguished Service Award."
The MGWA has celebrated the game of golf and promoted golf journalism since its inception in 1952.  Each year, it honors the sport's champions and contributors at its largest fundraiser, the National Awards Dinner.  This highly anticipated event is supported by golf's leading organizations and corporate supporters, Met Area clubs and club leaders, as well as local and national golf media. Through the Dinner and other events, the MGWA has raised millions of dollars for Caddie Scholarship programs in the Metropolitan New York area, the MGA Foundation, and the Dave Marr Journalism Scholarship at Columbia University. 
For tickets to the Dinner, click here.  For more information, contact Robin Sauerhaft, MGWA Executive Administrator, at: rsauerhaft@mgagolf.org