Ann Liguori to Receive the MGWA's Winnie Palmer Award
ANN LIGUORI TO BE HONORED WITH
THE METROPOLITAN GOLF WRITERS ASSOCIATION'S
WINNIE PALMER AWARD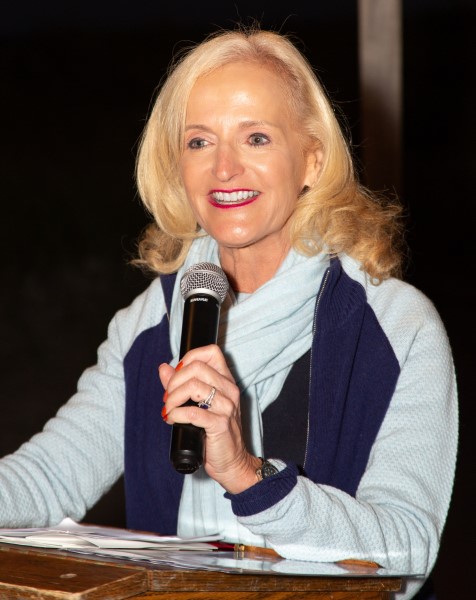 Elmsford, NY (April 26, 2022) – Renowned Sports Radio and TV talk show host Ann Liguori will be honored with the Metropolitan Golf Writers Association's Winnie Palmer Award at their 70th National Awards Dinner on Tuesday, June 21, 2022.  The Dinner will be held in Rye, New York at Westchester Country Club, which is celebrating its 100th anniversary in 2022.  Previously announced award winners include Dottie Pepper (Gold Tee Award), Mike Davis (Paul Dillon Distinguished Service Award) and Mark Cannizzaro (Lincoln Werden Golf Journalism Award).
A native of the Cleveland, Ohio suburb of Brecksville, Ann has been a pioneer in the field of sports journalism for years.  She was the first woman to host a call-in sports radio show on WFAN-NY, was the first female host/producer of her own weekly, prime-time show on The Golf Channel, "Conversations with Ann Liguori," and is a published author, entrepreneur and noted philanthropist. 'Talking Golf with Ann Liguori' airs on WFAN-NY on Sundays, 7-8 AM, from April – September and her weekly podcast is distributed on the Morning Read/Sports Illustrated Golf Media Platform. Ann covered her 24th Masters this past April, continues to license her Sports Innerview TV series featuring interviews she's done with top legends in sports and has received dozens of awards for her work in radio and television. Ann is also the Global Ambassador for IBKUL Athleisure Apparel.
After losing her father to cancer while in college, followed by the loss of her brother to leukemia, Liguori created the Ann Liguori Foundation, which raises both funds and awareness for cancer research and care.  The Foundation's annual Charity Golf Classic, now in its 24th year, is played each year at a prestigious course on the East End of Long Island and raises money for organizations such as the St. Jude Children's Research Hospital, the Samuel Waxman Cancer Research Foundation, camps, and programs for kids with cancer and numerous other cancer-related, not-for-profit organizations. She currently serves on the Advisory Board of the College of Arts & Sciences of her alma mater, the University of South Florida, where she established an endowed scholarship in memory of her late brother, Jim. 
"Ann loves every aspect of golf and has been an incredible ambassador for the sport. I'm not sure there is anyone in golf that works harder than Ann Liguori," said MGWA President Brian Crowell.  "She's clearly made a mark in sports broadcasting, but the Winnie Palmer Award reminds us of her decades of service and charity.  We are proud to celebrate Ann's personal efforts and the positive impact of the Ann Liguori Foundation."
The Metropolitan Golf Writers Association's Winnie Palmer Award, named in honor of Arnold Palmer's wife Winnie, who worked tirelessly on behalf of literacy programs and healthcare, recognizes an individual who has consistently given their time, energy, and enthusiasm to those less fortunate.  Previous recipients of this prestigious award include Tom Watson, Nancy Lopez, Ernie Els and the Gary Player Foundation.
The MGWA has celebrated the game of golf and promoted golf journalism since its inception in 1952.  Each year, it honors the sport's champions and contributors at its largest fundraiser, the National Awards Dinner.  This highly anticipated event is supported by golf's leading organizations and corporate supporters, Met Area clubs and club leaders, as well as local and national golf media. Through the Dinner and other events, the MGWA has raised millions of dollars for the Association's beneficiaries, which include Caddie Scholarship programs in the Metropolitan New York area, the MGA Foundation, and the Dave Marr Journalism Scholarship at Columbia University. 
Click here to purchase tickets to the Dinner.  For more information, contact Robin Sauerhaft, MGWA Executive Administrator, at: rsauerhaft@mgagolf.org